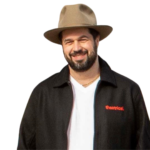 Andrew Gyopar
Founder & Self Appointed Adult-in-Charge
Andrew is the founder of Theatrical & Theatrical Academy. Andrew started Theatrical to give people an opportunity to get involved in a different type of musical theatre experience. Theatrical Academy is an extension of that philosophy, providing people with theatrical training in a safe, supportive environment from experienced performing arts professionals.
Andrew has over 30 years management experience in both the commercial and not-for-profit sectors and is a member of both the Australian Institute of Company Directors and the Institute of Community Directors Australia.
Sarah Gyopar
Academy Manager
Sarah is an experienced marketer and business owner. As wife to a musical theatre tragic she has become aware of a whole new world of talented people that spend their spare time performing and training. The creation of Theatrical Academy for dance has created a great reason to formally get involved in the Theatrical family and help Andrew realise his dream to produce amazing musical theatre in a fun and supportive atmosphere.
Sarah is a member of the Club of Stressed Out Mothers and is working on her accreditation for managing tweens and teenagers.